---
Green thumb? Please. I might have a way with making a meal with vegetables, but my planting is rudimentary at best (honestly, I only grow what I know can tolerate all levels of sun, and any amount of rain and, this is the kicker, clay soil). If you are an avid gardener, you know that doesn't leave you with many seed or bulb options.
Yet, every year somehow we are blessed with an over abundance of tulips, peonies, cherry tomatoes, beans and snap peas. Up until this year, we also found the raspberries love our back yard. Let me tell you how self-starting they are. In fact, I still find remnants of berry sprouts that sneak in among the new crops even though we eradicated them two seasons ago when they never bore fruit.

how does your garden grow
I do wonder this all the time. Every year that's my first thought "how does a garden grow" and "this year is going to be the best plot of vegetables ever". And I start the seeds indoors like a good gardener should. Then, I watch them wilt and die because we don't get them outdoors fast enough, we stink at watering as part of our daily routine, and my confidence dissipates. But I know weather is critical in this process, and other years we pulled out at least a crop of cherry tomatoes. This year, just like the last five, the planting gods will be on our side (and continue to look the other way on our deficiencies as gardeners).
TIP: Start seedlings two weeks before you plan to put them in the ground and that will give them time to sprout. Then, take a week to turn your ground/box soil and give seedlings time to acclimate to outdoor temperatures (few days) before they are planted). Needless to say, when the hardware store puts out the spring planting kits that does not mean it is time to start.

When the seedlings don't make it, I opt for direct planting in a box of fertilized (or compost-boosted) soil, digging to the bottom first to pull out any old roots I may have missed from the previous fall.

TIP: Spreading manure is a nice bonus but I can't handle the smell, or the idea of touching it later when I am harvesting and washing fresh ground-grown vegetables.

And so begins the summer garden plotting and planning. What fits the bill this year in our menu needs; what are we going to attempt that we have never grown before? Can we get the seeds in time to make it happen?

Mor Kitchen Garden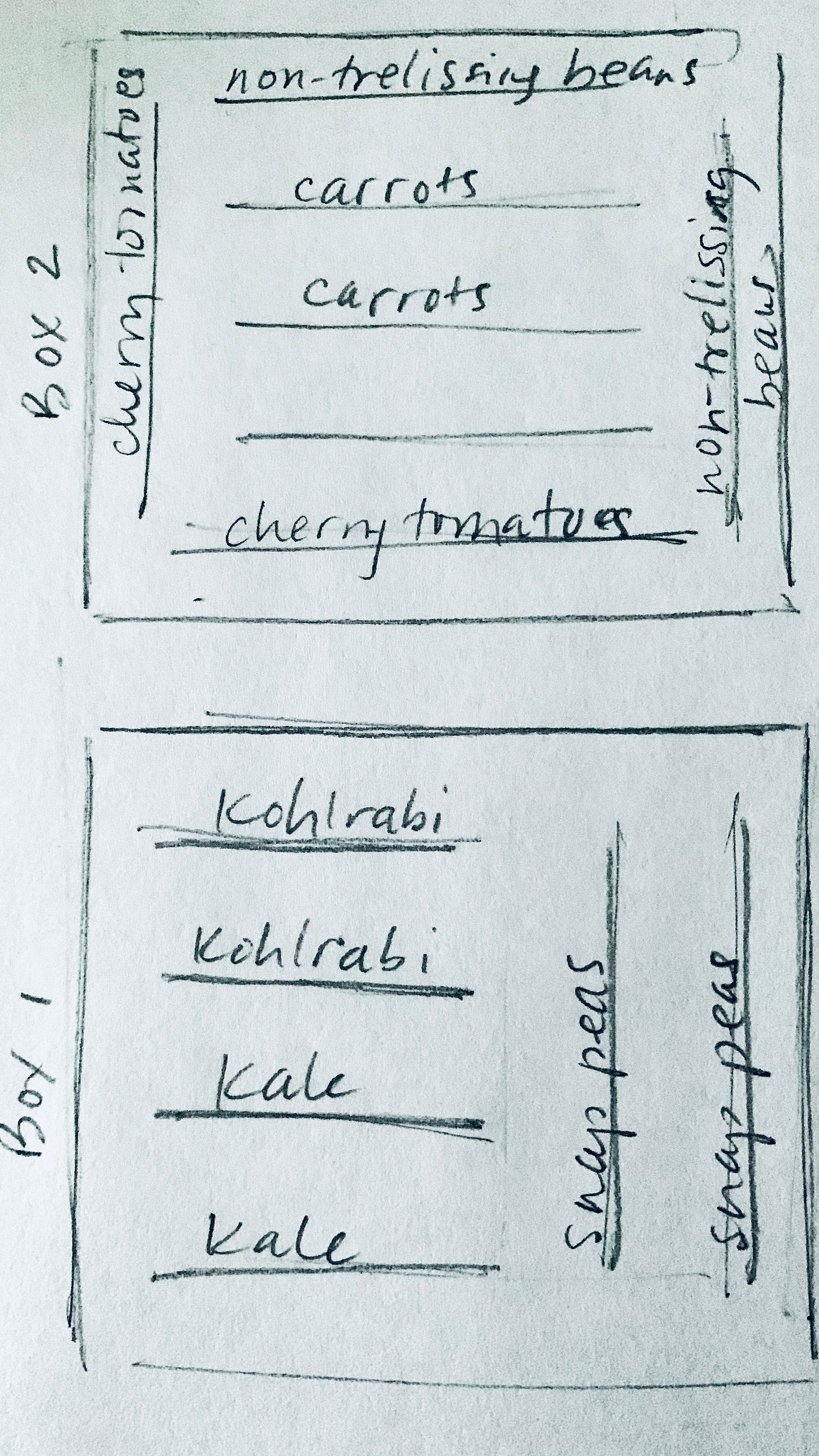 caption: Mor Kitchen
We have never grown carrots before nor kohlrabi or kale, but we decided to give them a try and see what happens.
Were we too early to sow seeds Mother's Day weekend? Are we going to pay for too much rain and not see a single sprout? Time will tell.
Stay tuned to find out the results and what we make next in the Mor Kitchen by following @jamieatmor on Instagram, or join us in our Keto groups on Facebook (mor.kitchen.co) where we drop hints and tips daily with our clean eating friends!